Women in the Built World
2019 Chicago Symposium
WitBW Symposium
Friday February 1, 2019
8:00am to 5:30pm
222 Merchandise Mart Plaza, Suite 1212
Chicago, IL 60654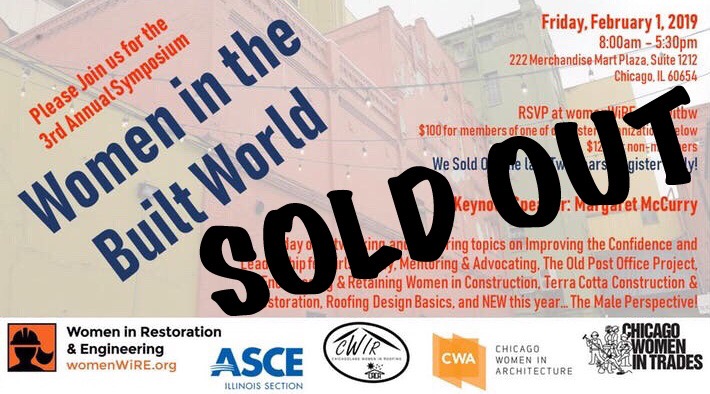 We are SOLD OUT but there is room on the waitlist! Follow the link to register and add your name.
The 3rd Annual Women in the Built World Symposium is brought to you from a partnership of Women in Restoration & Engineering (WiRE), Chicago Women in Architecture (CWA), CRCA's Chicagoland Women in Roofing (CRCA's CWIR), American Society of Civil Engineers Illinois (ASCE IL),  Chicago Women in Trades (CWIT), and International Masonry Institute (IMI). 
Symposium Partners
Our event is only made possible due to generous donations from our sponsors. This allows us to keep our registration cost to a minimum, which encourages young professionals to attend. Thank you for your support!
Symposium Registration and Sponsorship
Please

Click Here

to be taken to Eventebrite for additional information and to Register for the Symposium and Become a Sponsor
Individual Tickets:
Non-Member Tickets: $125
Member Tickets: $100
This is for Paying Annual Members of WiRE, CWA, CRCA's CWIR, ASCE IL, CWIT,
if you are not a Paying member, please use the Non-Member rate for registration
Sponsorship Levels:
Tier I: $250 (For Non-Profit Organizations)
Tier II: $500
Tier III: $1,000
8:00am Registration and Light Breakfast
8:30am Welcome and Introduction to the Symposium
8:45am Confidence, Leadership, and Sports: The Blueprint for Success for Girls' Today
Presenter: Meghan Morgan, Executive Director, Girls in the Game
9:15am Panel Discussion: Mentoring and Advocating
Moderator: Elaine Shapiro, Thornton Tomasetti
Panelists: A: Patricia Saldana Natke, UrbanWorks
E: Dhooli Raj, Collins Engineers, ASCE IL Past President
C: Michele Murphy, Shawmut
9:45am Break with Networking Breakout Session
10:15am Presentation: The Old Post Office Reuse Project
Presenters: Angela Harper, Gensler Architects and Christine Lussow, Bear Construction
10:55am Panel Discussion: Encouraging and Retaining Women in Construction
Moderator: Kristen Erickson, Pepper Construction
Panelists: Lily Calderon, Bricklayers & Allied Craftworkers and BAC Executive Council
Mary O'Malley, Pepper Superintendent
Erin Cullen, Turner Project Manager
11:25am Group Photo
11:30pm Lunch
12:30pm Presentation: Terra Cotta Construction & Restoration
Presenter: Amy Lamb Woods, International Masonry Institute
1:10pm Presentation: Roofing Basics
Presenters: Joan Crowe, GAF and CRCA's CWIR
1:45pm Break and Networking
2:00pm Panel Discussion: The Male Perspective
Moderator: Krista Gnatt, Western Specialty Contractors
Panelists: A: Bill Browne, Ratio Architecture
E: David Eckmann, Magnusson Klemencic Associates
C: Mat Dougherty, McShane Construction
C: Terry Graber, Power Construction
2:45pm Key Note Speaker: Margaret McCurry, Tigerman McCurry Architects
3:45pm Closing
4:00pm Cocktail Hour at Pella Showroom!