Women in the Built World
2022 Virtual Half-Day Symposium
Women in the Built World Symposium 
Friday March 25, 2022
12-5pm CST / 1-6pm EST
Sign up
for our email list so you don't miss out!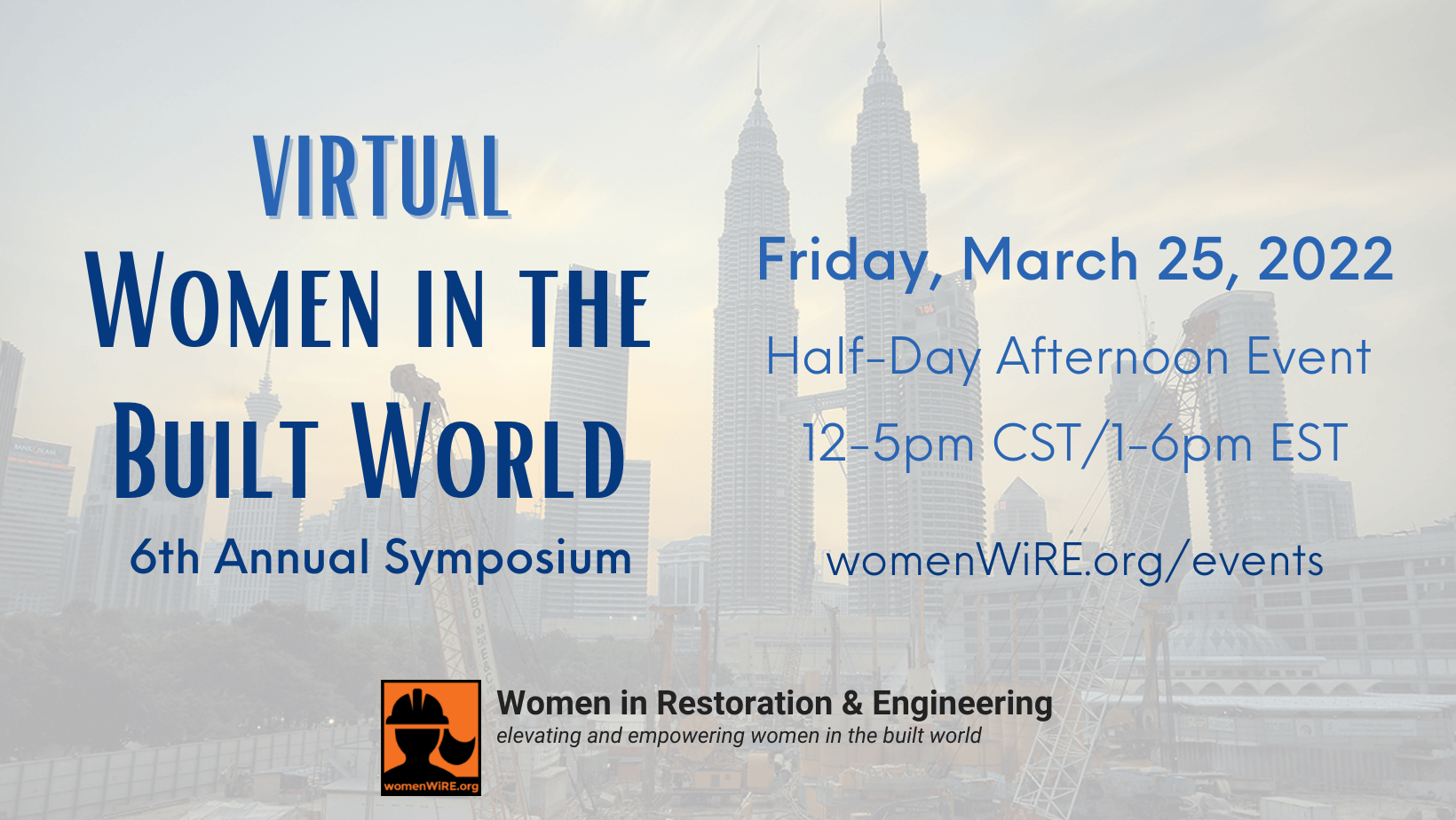 The 6th Annual Women in the Built World Symposium is brought by Women in Restoration & Engineering (WiRE) in partnership with Association for Preservation Technology Northeast (APTNE), Boston Society for Architects (BSA), National Association of Women in Construction (NAWIC), and the Structural Engineers Association of Massachusetts (SEAMass).
Symposium Registration and Sponsorship
Please Click Here to be taken to Eventbrite to Register and to Become a Sponsor. 
Individual Tickets:
Non-Member Tickets: $55
WiRE Member Tickets: $40
This is for Paying Annual Members of WiRE. If you are not a Paying member, please use the Non-Member rate for registration. 
Tradeswoman/Student: $25
This is for Tradeswoman and Students only. Tradeswomen should enter what trade organization they belong to. Students must be currently enrolled in a school or university and enter what school they are enrolled in.
Sponsorship:
Sponsorship: $250
Sponsorship includes your logo on our event landing page, acknowledgment at the symposium, and your logo in the event program. Attendee tickets are not included with sponsorship but can be purchased separately.  Sponsorship registration ends March 18th, 2022.
Friday, March 25, 2022
VIRTUAL
12:00PM – 5:00PM CST [1:00PM – 6:00PM EST]
12:00pm    Welcome and Introduction to the Symposium, Stephanie Davis (Maine)
12:15pm    Presentation: Having Difficult Conversations in the Workplace, Jennifer Pucci, Collier Youth Services (New Jersey)
12:45pm    Presentation: Preservation and Construction: Repairing the Washington Monument, Constance Lai, Grunley Construction Company, Inc. (Maryland)
1:30pm      Break
1:45 pm     Panel Discussion: Mentorship
Moderator:   Amanda Park, SuperStructures (Massachusetts)
Panelists:     Kelly Haigh, dLab (Massachusetts)
Elaine Shapiro, Thornton Tomasetti (Illinois)
Jessica Walther, Pullman (New York)
2:15pm     Breakout Rooms: Mentorships – Continuing the Discussion
3:00pm     Presentation: Working as a Contractor as a Timber Framer, Mason, and Millwright, Amy Boyce, Husk Preservation (Massachusetts)
3:30pm      Keynote Presentation: Housing the Global Citizen, Aeron Hodges, Stantec Architecture (California)
4:00pm      Summary and Closing, Stephanie Davis
4:15pm      Networking, Happy Hour, Open Discussion
5:00pm      End